Reliable and Accurate Body Fat Analysis
InBody 230 Testing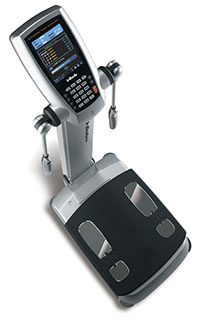 The InBody 230 offers high-precision measurements of weight, lean body mass, body fat mass, total body water, body fat percentage, and basal metabolic rate, to provide a comprehensive picture of your optimal weight and specific exercise needs to reach your goals.
The InBody 230 can also track body composition results and changes over a period of time so you can see your progress and determine what is or is not working with your fitness and nutrition plan.
The test is also valuable in that it measures how effective your exercise program is at not only maintaining ideal weight, but moreover how effective the program is at maintaining muscle mass and metabolism, both of which decline with age without proper training.
The Inbody Test
Most people are used to stepping on a scale or having their BMI calculated at every visit to the gym, a doctor's office, or their home. Monitoring weight or BMI alone, while helpful, is at best a crude and imprecise way to assess your health. If you have had a skin caliper body fat test or Hydrostatic Water test, rest assured, you will not be pinched or dunked in a tank of water.
With the state-of-the-art technology and accuracy of the InBody 230, testing and in-depth results are obtained in less than one minute. The Inbody 230 uses electrical impedance of six frequencies to test five body segments and provide sectional obesity, muscular mass and body water data. Additionally, this technology has been scientifically verified to be just as accurate as a DEXA scan.
Your total body composition is calculated and broken down into different components. The InBody 230 results are displayed for such outputs as body fat mass, percent body fat, skeletal muscle mass, lean body mass, total body water, weight, and body mass index. The InBody 230 also displays a segmental lean analysis and an estimated basal metabolic rate. Over time, these results can be monitored to better understand how changes in diet, lifestyle, exercise, or other interventions are influencing your body composition.
By regularly monitoring body fat and muscle development, you can understand how your diet, lifestyle, and exercise regimens influence your body composition. Knowing what's working for you can help you target and reach your wellness, appearance, and longevity goals.
IN LESS THAN 60 SECONDS YOU WILL FIND OUT:
Your Muscle Mass
Your Fat Mass and Body Fat Percentage
Your Total Body Water
Your Lean and Skeletal Muscle Mass
A Segmental Analysis of Fat and Lean Weight (right/left arm, right/left leg, trunk)
Guidance for Weight Management and more
$35 per test
Prepare for Your Test
Prepare for your body fat test by adhering to the following instructions:
Do not eat for 4 hours prior to testing
Do not exercise 12 hours prior to testing
Do not consume alcohol for 24 hours prior to testing
Hydrate well the day before
Do not drink caffeine on the day of your test
Insure access to both feet with removable footwear (no socks or pantyhose)
Wear tight clothing or very little clothing. Clothing is attributed to your lean body mass (muscle)
Women: sports bra, bra and lycra shorts. Men: Lycra shorts or shorter shorts (not baggy), no shirt.
Do not wear jewelry- all jewelry will have to be removed prior to testing
Do not put lotion on your hands and feet
Do not exercise or take a shower before measurement
For females, avoid having measurement during menstrual period as total body water will be higher than normal